Busienss Mixer - integrationa and meeting with Mateusz Kusznierewicz - 17th Nov. 2021 at 7PM CET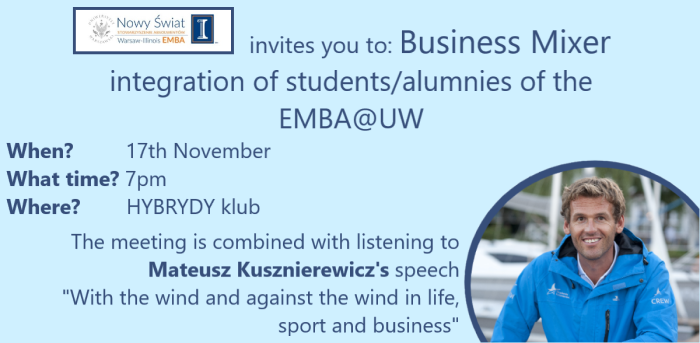 On behalf of the Management Board of the Warsaw-Illinois Executive MBA Alumni Association and Executive MBA @ UW, we cordially invite you to the next integration meeting of MBA graduates / students. The meeting is combined with listening to Mateusz Kusznierewicz's speech - "With the wind and against the wind in life, sport and business"
https://pl.wikipedia.org/wiki/Mateusz_Kusznierewicz
During the meeting, Mateusz Kusznierewicz will share his experiences, observations and specific methods learned from sport. He will talk about six Olympics in which he participated both as a player and a coach. He will also explain how he introduced sport to business and his role in the organization of the Sailing World Cup, which will be played next year in Switzerland.
Dates: Wednesday, November 17, 2021. in hours 19.00 - 23.00.
Place: HYBRYDY Club (Warsaw, 7/9 Złota Street).
Participation cost:
PLN 0 from members of the WIEMBA and EMBA @ UW association who paid the premium premium for 2021 (PLN 500).
PLN 70 from members of the WIEMBA and EMBA @ UW association who paid the membership fee for 2021. (PLN 150). We pay our contributions to the account of the association below.
PLN 100 from other MBA graduates and from accompanying persons
PLN 150 - the entry fee in this amount will be collected from all people who will pay in cash only on the day of the event before entering the Hybrydy Club
 
The price includes snacks and 4h open bar.
Date and amount of payments: Please make payments in the appropriate amounts by November 12, 2021 to the account of the Warsaw-Illinois Executive MBA Alumni Association and EMBA @ UW (account number 07 2030 0045 1110 0000 0333 1250). Payment title: donation for statutory purposes. The payment is tantamount to registration for the event.
Partners:
MCZ UW https://www.mcz.edu.pl/
IPOPEMA TFI POLAND - https://ipopematfi.pl/
NOTE: the event is intended only for people who have a valid covid passport (green pass)
_____________________________________________________________________________________________
By the way, we would like to inform you that the Christmas meeting of MBA graduates will also be held in Hybrydy on December 9, 2021. The payment for participation will be the same as in the case of the event with Mateusz Kusznierewicz.

We cordially greet you and invite you to participate
Sylwester Wybranowski & Krzysztof Pajączek