The Faculty of Management of the University of Warsaw is the best business school in Poland according to the Eduniversal ranking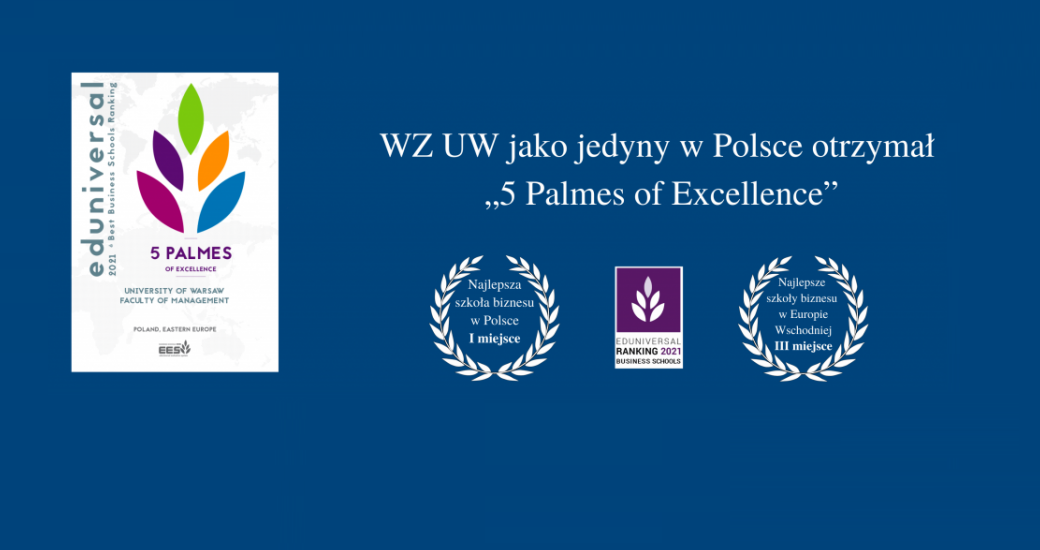 Eduniversal Business School Ranking presents 1000 of the best business schools from 154 countries divided into nine regions. The aim of the ranking, organized since 2007, is to present universities with international aspirations, educating managerial staff at the highest level.
In the Eduniversal Business School 2021 Ranking announced at the end of November, the Faculty of Management of the University of Warsaw once again took the leading positions. In the national ranking, the WZ UW took first place, ahead of the Kozminski University, the Warsaw School of Economics and the University of Economics in Poznań, maintaining a long-standing position as a leader. In the region of Eastern Europe, it was awarded as one of the "Top 3 Business Schools", winning third place. The first went to the Prague University of Economics and Business, while the second - the Graduate School of Management - St. Petersburg University.
As one of 100 units around the world, the Faculty of Management at the University of Warsaw has also received the highest category "5 Palmes of Excellence" for business schools with a strong global influence ("Universal Business School with strong global influence"). The classification of universities here is based on their international impact, reputation and quality of education.
- The list is reviewed each year to provide an up-to-date map of the best higher education institutions in the world. We have been present at it for several years, occupying high positions, which confirms the strong and stable position of the Faculty of Management at the University of Warsaw, not only in Poland, but also internationally - says prof. dr hab. Grzegorz Karasiewicz, Dean of the Faculty of Economics of the University of Warsaw. The results of this year's edition were announced at the Eduniversal 3D World Convention, which was held on November 17-19, 2021
The Faculty of Management of the University of Warsaw has been educating managers and business leaders for almost 50 years - it was established in 1972 and is the oldest management educational unit in Central and Eastern Europe.
This position is reflected in the granted accreditations, incl. EQUIS (one of the 3 most important accreditations for business universities in the world) and AMBA (for the Executive MBA program) and high positions in the rankings.
Full list and description of the Eduniversal Ranking Business School methodology.