Information session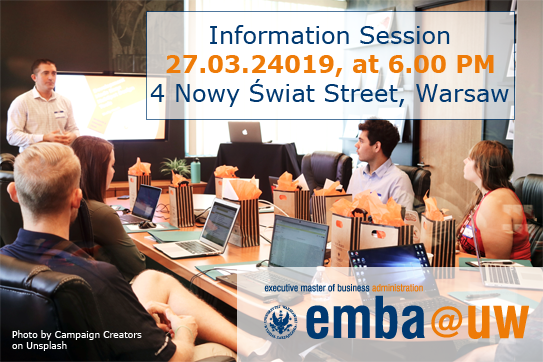 In September 2019, the 27th edition of our postgraduate EMBA@UW (Executive MBA at the University of Warsaw) program begins.
Graduates of receive a certificate of postgraduate studies from the University of Warsaw with the degree of Executive Master of Business Administration.
The session will be hosted by Tomasz Ludwicki, PhD, The Director of Studies. He will tell about the study organization, the curriculum, lecturers and everything that candidates may be interested in.
All those interested in participating in the 27th edition of the Executive MBA Program at the University of Warsaw are invited to:
INFORMATION SESSION
which will take place:
on Wednesday, March 27, 2019, at 6:00 PM
at the headquarters of the MCZ UW: 4 Nowy Świat Street (2nd floor), Warsaw,.
Information session for candidates for the new cohort will take place on the:
27 of March 2019, 6 p.m.
at 4 Nowy Świat, 2nd fl., room 200
Information sessions give you the opportunity to get to know us better. These receptions provide you with an excellent opportunity to meet and interact with our staff, faculty, alumni and current students to learn more about our program.