Business Mixer vol.2 - see to report!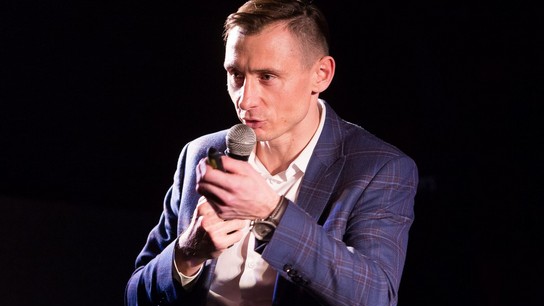 Approx. 130 people representing various MBA programs, took part in another Business Mixer organized in Proxima club by the Warsaw-Illinois Executive MBA and Executive MBA @ UW Association. This time, the participants of the event had the opportunity to listen to a presentation by Maciej Sawicki, one of the graduates of the Warsaw-Illinois Executive MBA program, currently the General Secretary of PZPN.
The Business Mixer meetings are aimed at networking and integration of people who have completed or are currently implementing MBA programs at various universities. The main partner of the event was Deloitte, and the organization was also supported by Reesco and Adaptive.

The meeting was opened by Tomasz Kacprzak and Krzysztof Pajączek, respectively President and Vice President of the Warsaw-Illinois Executive MBA and Executive MBA @ UW Association. After the official commencement of the event, the microphone was taken over by the moderator - Wojciech Górniak from Deloitte. He presented a special guest of the event and invited to listen to the presentation "PZPN 5 years ago, and today - branding sports organization"

Maciej Sawicki presented the extraordinary path that the Polish Football Association has passed since 2012. He discussed the four pillars on which the Union's activities are based, and also presented plans for the further development of football in Poland.

The impressive activity and achievements of the Polish Football Association over the last 5 years (including rebuilding the image of the federation, increasing the PZPN budget more than 2.5 times to over PLN 200 million annually, sports successes of the Polish National Team) were one of the topics of conversations after the presentation . Business Mixer participants were impressed by the scale of the Union's activity in such fields as training and games, grassroots (amateur football) as well as football promotion and promotion initiatives in Poland that make football strengthen its unique position of sport #1 in Poland. More details on the activities of PZPN and current events can be found on the website of the Association: www.LaczyNasPilka.pl

After a very interesting presentation, the participants had the opportunity to ask questions. They concerned the future activities of the Union, as well as Polish participation in the World Championships. Maciej Sawicki avoided an unequivocal answer to the question about which place Poland will take up at the next World Championships. So everything in the legs and heads of our players.

The official part of the event was completed by Tomasz Ludwicki, Executive MBA Program Director at the University of Warsaw. He thanked the organizers for another interesting meeting and expressed his satisfaction that so many people participate in the Mixer.

The rest of the evening was marked by interesting conversations, exchange of views, sharing of experience. Traditionally, among the guests there were talented dancers who took advantage of the opportunity to move around the dance floor.

The next Business Mixer is March 9, 2018. Details will be available soon.
Join us nest time!