Business mixer vol. 3 - Borussia Dortmund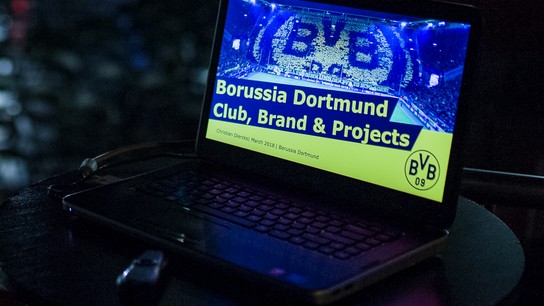 115 people representing various MBA programs took part in another Business Mixer organized in the Hybrydy club by the Warsaw-Illinois Executive MBA and Executive MBA @ UW Alumni Association. After a very successful January performance of the leading Polish football player - Maciej Sawicki, Secretary General of PZPN, the organizers invited representatives of one of the world's largest football clubs - Borussia Dortmund to Poland.
People who work in the organizational sector of the Dortmund club every day came to Poland:
• Christian Diercks, manager of the Borussia Dortmund Football School department (international marketing and sports project)

• Michał Zioło, Polish trainer working in Borussia and manager of stationary courses organized in Poland.
The main partners of the Friday event were Syngia, KRK Partners, Orange Polska, Adaptive, the Marriott Hotel and the WBS Warsaw Football Academy.

The meeting was opened by Tomasz Kacprzak and Krzysztof Pajączek, respectively President and Vice President of the Warsaw-Illinois Executive MBA and Executive MBA @ UW Association, who introduced the guests and invited to present the Borussia Dortmund activities abroad - club, brand, projects ".
Christian Diercks presented "the backstage" of managing a club employing 800 employees at the moment. He drew the unusual path of the club from the Ruhr area from almost bankruptcy in 2008 to the great marketing and sporting success it can boast of now. He also discussed the most important marketing pillars, mission and values - elements that determine the current strength of the Ruhr club.
The impressive activity and achievements of Borussia Dortmund over the last 10 years (including rebuilding the image of BVB, increasing several times the budget or the number of members of the club to 150,000 and sports successes) were one of the topics of later lobby conversations. Participants were impressed by the scale and breadth of BVB's activity both on the European and global markets.
After a very interesting presentation, the participants had the opportunity to ask questions. They concerned the future strategic activities of the Dortmund club and competition with the English or Spanish leagues.
The official part of the event was completed by Tomasz Ludwicki, Executive MBA Program Director at the University of Warsaw. He thanked the organizers for the involvement and organization of the next meeting.
The rest of the evening was marked by interesting conversations far beyond the football theme.

We encourage you to participate in the next Bussiness Mixers. The next meeting of this series will take place in the second half of 2018.