Graduation of Cohort XXIII EMBA@UW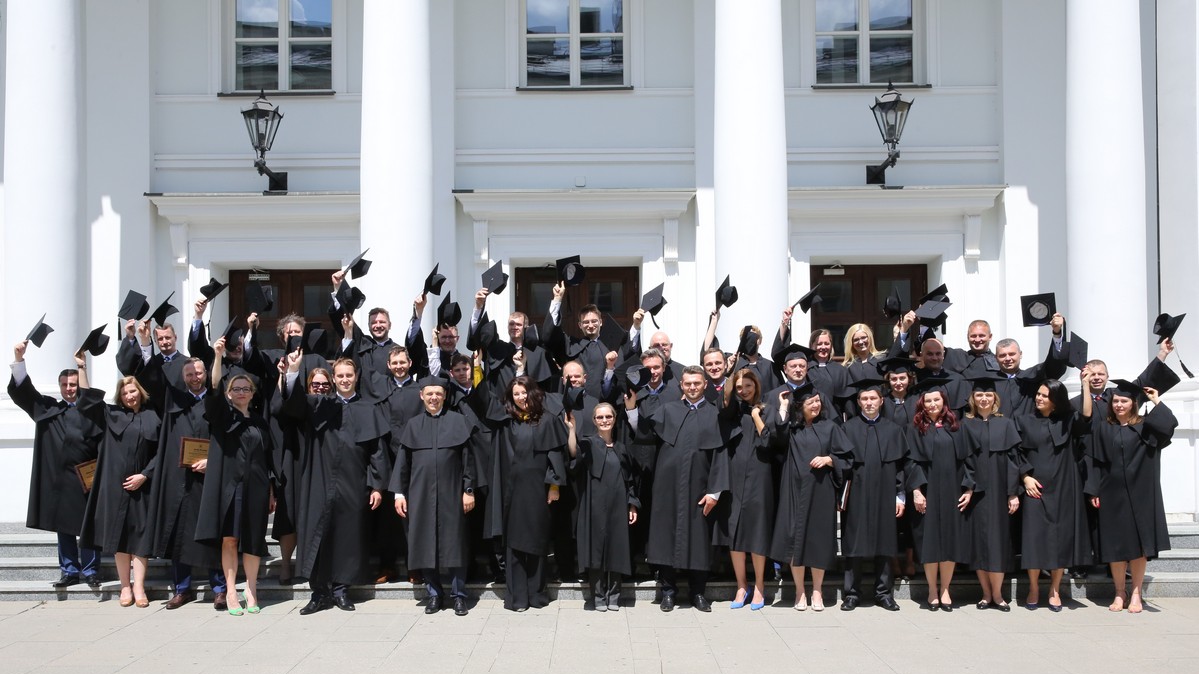 photo: Marcin Kluczek
On Saturday, July the 1st, 2017 at Senat Hall of Kazimierzowski Palace, at The University of Warsaw, the 23rd cohort of students graduated from Executive MBA Program at the University of Warsaw.
Prof. Alojzy Nowak, Prorector at the University of Warsaw, conducted The Ceremony which was attended by: prof. Monika Kostera, Durham University; dr. Tomasz Ludwicki, EMBA Director of Executive MBA Program, prof. dr hab. Grzegorz Karasiewicz, Vice-Dean for Student Affairs and Quality of Teaching, the Graduates and their families.
Professor Monika Kostera delivered a lecture, in which she answered in a very interesting way, the question: Will management help us to find the future? Professor Kostera underlined the fundamental importance of imagination in creating alternative strategies that she believes are the best way to find yourself in the future.
The ceremony was also attended by the EMBA partner: Mr. Jerzy Ciempiel – HR Director at ABB in Poland who handed over the awards for the best papers on strategy (ABB) as well as the best consulting projects granted by prof. Alojzy Nowak.
Award for the Best Strategy Paper, founded by ABB went to: Anna Barejko, Aneta Grzegorzewska, Aleksander Sosnowski, Alfred Zachwiej.
Award for the Best Consulting Project english edition, went to: Anna Topolska, Alina Rudnicka-Acosta, Rafał Milewski, Robert Zarański.
Award for the Best Consulting Project polish edition, went to: Anna Chrościcka, Arkadiusz Jarkiewiczm Zbigniew Niewójt, Marek Siatkowski, Maciek Wójcik.
Before awarding the diploma to students, dr Ludwicki awarded students with the highest grades.
Best students english edition: Anna Topolska, Arthur Szabelski, Rafał Milewski.
Best students polish edition: Joanna Sokołowska, Kamil Mroczka, Mariusz Sienkiewicz.
Awards were also given to the faculty: prof. Nicolas Petruzzi, prof. Krzysztof Obłój, prof. Grzegorz Karasiewicz and prof. Tomasz Ludwicki – The Best Teachers of the 23rd cohort of EMBA.
Prof. Alojzy Nowak in his short speech emphasized the role of Executive MBA Program Graduates for the Warsaw University and the business environment in Poland. He also highlighted the importance of team work in today's managing model.
On behalf of the Graduates of the EMBA in english, Rafał Milewski thanked all the class mates and agreed with prof. Nowak about the important role of team work.
On behalf of the Graduates of the EMBA in Polish, Jan Pastwa thanked all the class mates and their families, the faculty and the Executive MBA team for cooperation and support.
Dr. Tomasz Ludwicki gave the last, but no least, speech of the Ceremony.
The Graduation ceremony was graced by the UW Choir, who performed "Gaude Mater Polonia" and "Gaudemaus Igitur", and followed with the toast and refreshments served at the Golden Hall of the Palace.