Meet the Businesswomen of the Year 2021!
Let's meet the winners of the 12th edition
of the Businesswoman of the Year competition!
We finalny have the list of winners of the 12th edition of the Businesswoman of the Year Success Written with Lipstick competition, whose partner is the Executive MBA @ UW program. The awards were granted in eight categories: Startup of the year, Idea for start / Local business, Leader in New Technologies, Business of the Year, income below 10 million and income above 10 million, Social activity, Counteracting digital exclusion and Parent-friendly organization. Who are the winners and what distinguishes the businesses they run?
Every year, the competition awards exceptional women, who's professional success and life story is an inspiration. We can certainly consider them as contemporary role models, that is, models of brave women, often despite the difficulties, achieving many successes in their fields. We need such leaders especially nowadays, because their role in shaping the attitudes of young and mature women is unquestionable. But not only women can look for role models among the awarded. Because the attitude of the winners also motivates men to act for equality.
The group of several dozen of experts deciding on the winners had a particularly difficult task this year, and all this due to the record number of nominations - there were as many as 912, i.e. 202 more than a year ago. From the group of 25 finalists, who were appreciated in 8 categories, 11 winners were selected.
"Inspirational women - Sheroes, are a group of this year's finalists and winners. We are looking for such women to show their stories and profiles to younger generations. So that girls and women choose such role models. Thus saying goodbye to stereotypes. Opening up to the new. " - summed up Olga Kozierowska, president of the Lipstick Success Foundation and the originator of the competition.
In the "Business of the Year: Revenue less than PLN 10 million" category, the main prize in the form of free Executive MBA @ UW studies went to Anna Rutkowska-Didiuk and Anna Didiuk, creators of the MOKOSH brand that produces less waste cosmetics. The winners in this category are a role model when it comes to respecting raw materials and paying attention to ecology.
The award was presented to the winners by the director of the Executive MBA program at the University of Warsaw, Dr. Tomasz Ludwicki, during a ceremonial Gala on June 18, 2021 in Warsaw. We invite you to watch the entire event on the YouTube channel of the Sukces Pisany Szminką Foundation https://www.youtube.com/watch?v=99-AwAeRSso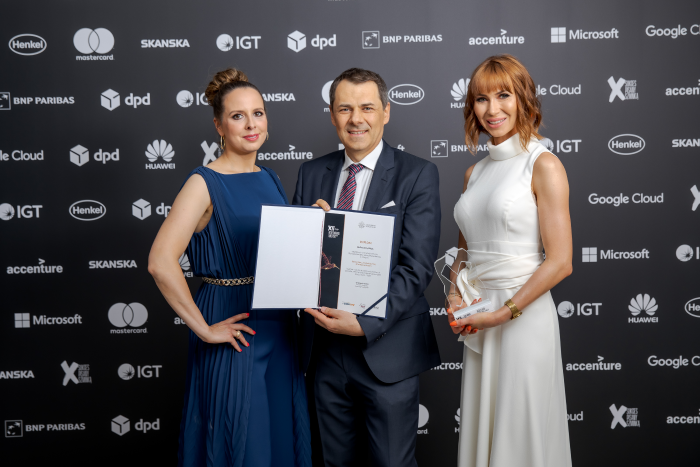 The full list of the winners of the 12th edition of the Businesswoman of the Year Competition is available at: https://bizneswomanroku.pl/laureatki/
The Businesswoman of the Year Success Written with Lipstick competition is the oldest and largest initiative in Poland, which has been rewarding exceptional female and male entrepreneurs for 12 years - women who are not afraid to implement bold business, social and cultural projects and men who support women in their work environments and implement politics diversity. In the history of the competition so far, it has been possible to publicize the successes of women who, operating in various regions of Poland, have built national and international brands. It opens up a chance for the participants to develop their company and enter new markets. It gives them the opportunity to develop and a chance to attract new investors and business partners. All information about the competition can be found on the website: https://bizneswomanroku.pl/