The Faculty of Management at the University of Warsaw ranked first in the Perspektywy ranking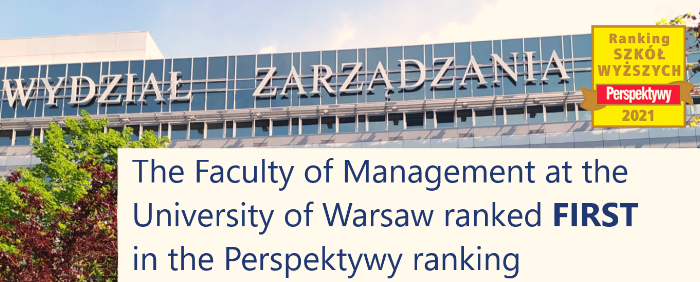 Dear Sir and Madam,
We are happy and proud to announce the success of the Faculty of Management at the University of Warsaw in this year's "Perspektywy" Ranking of Study Directions.
In the group of economics, in the "Management" category, the studies conducted by the Faculty of Management at the University of Warsaw were recognized as the best in Poland, obtaining the maximum number of 100 points. Our Faculty shares the highest podium with the Kozminski University in Warsaw. The following positions were taken by: the Warsaw School of Economics and the Gdańsk University of Technology.
The ranking of fields of study is based on indicators grouped into the following six criteria:
PRESTIGE
Assessment by the academic staff

GRADUATES ON THE LABOR MARKET
Economic fate of graduates

ACADEMIC POTENTIAL
Scientific category indicator

TEACHING POTENTIAL
Accreditations
Quality of admissions

SCIENTIFIC POTENTIAL
Publications
Citizability
FWCI (Field-Weighted Citation Impact)
FWVI (Field-Weighted View Impact)
Top 10 (Publications in Top 10 Journal Percentiles)

INTERNATIONALIZATION
Publications in foreign cooperation
Foreign students

ADDITIONAL CRITERIA
Vocational exams
The full this year's Ranking of Directions in Perspectives 2021 in the Management group can be found at the link below
In this year's edition of the Ranking of Academic Universities, the University of Warsaw came second, scoring 99.2 points. The highest podium was taken by the Jagiellonian University. The Warsaw University of Technology was third on the podium.
The full Ranking of Perspektywy 2021 Academic Universities can be found at the link below