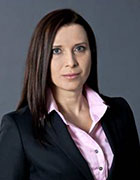 Barbara Sikora - Finance Director, Member of The Board, Centrum Development and Investments Group and Immobel Poland, Graduate of the XIX Edition
I have decided to take the Warsaw – Illinois Executive MBA Program for several reasons. Most importantly for a need to confront my professional experience with the latest trends and achievements of the science, in other words: to regularize the practice in the theory frames. My expectations came true thanks to such wonderful courses as: negotiations in business, strategic management, legal aspects of managerial decisions, marketing, and International management. Thanks to exceptional professors, recognized experts in respective fields, and at the same time, practitioners, my evaluation of these courses is very affirmative.
Completing the Program is quite an organizational challenge, in particular when one has a demanding corporate job. However, an MBA Program gives you more, especially if you expect more, and more time you can assign to the learning process (developed by the best Universities in the World) in order to confront a theory with the business practice. A strategic, simulation game best pictures such a learning experience. While playing the game, we could feel as a one team managing a large organization, and time spent on analyzing the competition, implementing the knowledge just learnt, as well as diverse professional experience of team members applied, were all translated into our organization's result. A consulting project which we had to prepare, made another key element of our studies. We were working not only on solving a specific, organizational problem of a company operating in a real market, in cooperation with its Management Board and key employees, but also we had to introduce such tools and methods that would satisfy the sponsor of our project. With great satisfaction, I may say that the project was very well received and at the same time, made the best credentials for the WIEMBA Program. The more good students, the more value of an MBA program, the more we all can learn from each other. Thanks to the Program, I have met many professional, exceptional people, and the new acquaintances, both professional and private, make the capital to last for years.