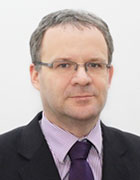 Janusz Buława – Secretary General, Member of the Management Board, CFO, Eiffage Polska Budownictwo S.A., Graduate of the XX Edition
Over a dozen years of professional experience in different countries and on different jobs at multinational corporation made me to think whether my knowledge and skills are truly adequate to the more and more challenging business environment. I decided to take part in the Executive MBA Program, hoping to meet business practitioners, experts in various fields, and managers facing similar challenges in everyday life – I truly counted that the Program would offer authentic inspiration, allowing to verify my stand point and to draw from experience of the others.
The WIEMBA Program met all my expectations – classes with experienced lecturers, business contacts, work in groups on solving problems deriving from different operational fields of a contemporary organization turned out to be a great opportunity to broaden my horizon, to make sure my choices were right, and to realize my own mistakes. In particular, "Negotiations in business", "Marketing" and "Behavioral science" sank into my memory. I was positively surprised that all the program's modules were known to me from the previous business practice. Thanks to that the entire Program made a perfect supplement and enhancement of my professional career. In addition, the WIEMBA schedule leaves you some time to family life on Sundays, which, in my case, was very important.