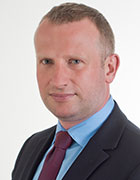 Jarosław Pękala – Sales Director, ALPLA, Graduate of the XX Edition
From time perspespective, I consider taking a decision on studying at the MBA program was a right move. I was aware that in the dynamically changing business environment, my experience, based on humanistic and law education, needed developing, systemizing, and most importantly, confronting with experience of the others.
The faculty makes the WIEMBA program's asset. Classes carried out by experienced practitioners give not only quintessence of knowledge, but also a large set of supplementary materials , which I often go back to during present projects. Every class, thanks to an interactive form, workshops, team work, and case studies provided a look from different angles, and various perspectives to the same problem, and at the same time confronting opinions of students and professors. Apart from the renown faculty, to me even more important was possibility of diving into interesting topics – brain storming, sharing ideas and doubts, pointing out the right sources of knowledge, which I deem now priceless. What has also remained, apart from knowledge and capabilities, is a network of great people. During classes, one of the professors noted that we would probably never find ourselves again in such an intelligent and versatile group of people. Most importantly, we have shared joint passions which make us even closer: family, friends, and challenges. That is why it is so important we stay in touch, consulting each other not only on business matters.