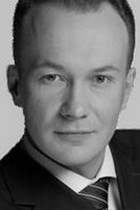 Stanisław Tański, Local Business Unit Financial Controller, ABB Sp. z o.o., Graduate of XXV Edition
Participation in the Executive MBA program is a unique experience in acquiring knowledge, solving business problems and expanding professional contacts. For three semesters, the studies convince oneself access to a full range of information and current business trends that need to be known and understood in order to function effectively in organizations, carry out changes and be an effective leader. Thanks to a solid professor's staff, interactive sessions and diversity of participants' professional experiences, the program helps to discover new perspectives and unconventional business solutions. The acquired skills help better and more effectively operate in everyday business, which is of key importance in the possibility of significantly influencing their own professional future as well as creating new directions of the organization's development.
After completing your studies, you become more aware of what is happening in your company, and in the external environment, and above all you gain the ability to use opportunities emerging both inside and outside the organization. You will gain knowledge and skills to prepare for an international career, develop your own business or achieve any other professional goals set for yourself. Personally, for me, classes in international business, negotiations, leadership, strategy and operational management, work on a consulting project, as well as competition in a business game were extremely valuable to me.
Time invested in the program brings tangible benefits, which I notice in my daily work, providing numerous opportunities to use new skills. The studies allowed me to assimilate a very orderly process in the field of strategic thinking, solving complex problems from various areas of activity, definitely expanding the comfort zone towards various business challenges. What's more, it is also a good platform for personal development - as a more creative, effective and conscious leader, to make and convince to change and improve the team's achievements. These skills are becoming more and more valuable in the rapidly changing market reality in which managers and companies function.
Studies are not only an investment in learning - from initial integration, the group creates a great team that solves numerous problems in the classroom but also relationships develop outside the program and maintain after completion. EMBA was a huge and extremely satisfying challenge.