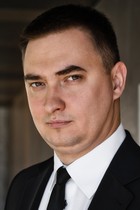 Stefan Karmaza, CEO and Major Owner, Vectio Sp. z o.o., Graduate of XXV Edition
Before I started the Executive MBA, I compared the best Executive Master of Business Administration programs available in Poland. An individual approach and a well-designed program convinced me to choose the program at the University of Warsaw. After the course, I can definitely say that it was one of the best business and personal decisions I made over the past few years.
The program itself is structured in such a way that each subsequent class builds up and consolidates knowledge and skills that were developed at an earlier stage of the course. At the same time, the emphasis is very much on the exchange of ideas, knowledge and, above all, professional experience within the group. This is an amazing combination of both pure business knowledge and the experience of lecturers, as well as the participants themselves. In practice, each class, specific business cases that were discussed, or open discussions within the group gave us a change to look at everyday business as usual in a completely different way. This pushes for a much more effective use of the potential within the organization that is managed, which in turn translates into concrete business results.
Based on the knowledge and experience gained during the Executive MBA program, we rebuilt and adapted the product and service portfolio of the company. We put more emphasis on the strategic development of the organization's potential, analysing the current situation from a completely different perspective. The effects could be observed very quickly in the form of tangible benefits not only in financial terms, but also as the development potential of the entire company for the incoming years.
The Executive MBA program at the University of Warsaw can be compared to a great movie that you watch in a company of fantastic people You meet there. During the course, questions arise and sometimes even doubts, which are openly discussed, "does such simulation makes sense, and maybe we should develop a different model", and when the session ends, everything is shaped in a very well organized, orderly and thoughtful picture, where each piece has its place. The summary is as follows - despite the enormous work and time that should have been put into active participation during the course, You would be more than happy to go through the program again and again.