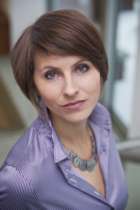 Weronika Dejneka, Director of the Office Of Investment Products, PZU, Graduate of the XXI Edition

In my opinion, the greatest strength and value of Executive MBA studies is its people and the ability to build business, academic and private relationships.

Educational value is provided by the teaching staff from the University of Warsaw and also the professors representing prestigious universities from Europe and the USA. This international composition makes it possible to explore other markets and approaches to business with all their economic and cultural differences. Also, the teaching methodology used by Polish and American professors is completely different and worth knowing. From a professional point of view, I was particularly interested in the marketing classes taught by teachers from the U.S.A. and their approach to the customer and competition and the positioning of sales based on solutions and not products.

Executive MBA studies, above all, make it possible to establish relationships with intelligent professionals who are open to new ideas and experiences. The most valuable aspect of the Program was the possibility to get to know and compare one's experiences with the knowledge and experience of people on different paths and career levels, coming from various industries. Sharing experiences with people working in different sectors of the economy is an inspiration for further action. A value in itself is provided by networking, that is building a network of contacts by means of lasting relationship for the purpose of providing each other support and help. Both the Program and the Association of its graduates make it fully possible.

Executive MBA studies allow the world of science and business to intersect in order to build an active platform for cooperation, sharing experiences, broadening knowledge and horizons of management.