Online Meeting with prof. dr hab. Krzysztof Obłój - 31.03.2021 at 5 pm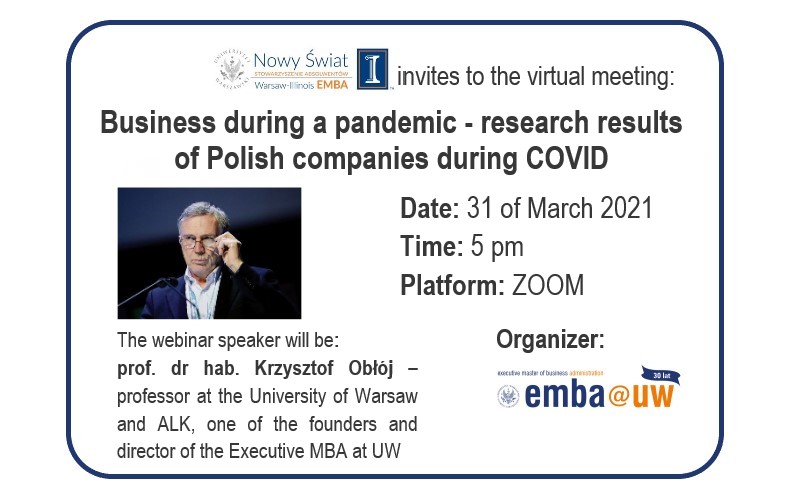 The Management Board of the Warsaw-Illinois Executive MBA and Executive MBA @ UW Alumni Association and IMC Direcotr invite members and supporters of the association to the next virtual meeting – "Business during a pandemic - research results of Polish companies during COVID"
The topic of the webinar will be a pioneering research program on the adaptation of Polish companies to a pandemic. From the beginning of the pandemic to date, 5 rounds of research have been carried out. The participants of the webinar will learn more about the interpretation of the results and noticed trends.
Biznes w czasie pandemii – raport z piątej tury badania - Opinie - rp.pl
The webinar speaker will be prof. dr hab. Krzysztof Obłój – professor at the University of Warsaw and ALK, one of the founders and director of the Executive MBA at UW:
Lecturer at many universities around the world (Bodo Graduate School of Management in Norway, ESCP-EAP in Paris, IEDC Bled School of Management and Henley-on-Thames Management College in Great Britain, University of Illinois at Urbana Champaign, CCSU, Duquesne University , Yale University, Tel Aviv University, Copenhagan Business School, Sun Yatsen University in China.
Member of many supervisory boards of the largest companies in Poland.
He has published several dozen scientific articles in Polish and foreign journals. He was the president of the European International Business Association, a member of the Strategic Management Society, a member of the American International Business Academy.
Date and time: 31 of March 2021, 5 pm
Platform: ZOOM
For registration, please fill the form below.
Organizer: Warsaw-Illinois Executive MBA Alumni Association and Executive MBA @ UW "Nowy Świat". http://www.alumni.org.pl/
Partners:
Executive MBA@UW – www.mcz.edu.pl
Fee: Free participation or voluntary donation to the Association's account
On this occasion, we would like to remind you that we are an organization that remains active thanks to annual contributions and other voluntary donations from members of the Association or external donors. Therefore, we encourage you to make payments to the Association's account: 07 2030 0045 1110 00000333 1250. Thank you for your response to voluntary payments. We will honor the donors at the right moment.
Taking advantage of the opportunity, we would like to remind you of the necessity to pay membership fees for 2021. – in the amount of PLN 150 and a premium of PLN 500. We encourage you to donate.
On behalf of the Management Board, we cordially remain at your disposal
Sylwester Wybranowski & Krzysztof Pajączek